Join our Team
OUR Credit Union has been providing financial services to our community since 1959. Our staff strives to exceed the standards of OUR Core Values with each member encounter.
OUR Core Values
1. We go "Above and Beyond" by making our members the priority.
2. We are "Better Together" through collaboration and mutual respect.
3. We "Own It" by taking pride in ownership, honoring our commitments, work with integrity and professionalism, and show initiative in all that we do.
We are a fun, dedicated, member-focused team and are passionate about what we do! If you are in search of a fun place to work and grow, we would love to consider you joining our team. Please submit your resume below.
Current Openings
Part-time Teller
This position is at our Normandy Branch and candidates are expected to provide excellent member service and handle monetary transactions in the lobby and drive-thru.
Contact Center Specialist
This position would be a hybrid schedule, allowing the candidate to split time between home and working at our Twelve Mile Branch after a review period. This position works within our Call Center to assist members through remote delivery channels such as phone, email, chat, or text. We are looking for candidates who want to make a positive difference in the lives of our members by helping resolve their requests in a timely and efficient manner. This position requires exceptional communication skills to demonstrate empathy and patience with members via remote channels, as well as the ability to multitask during conversations to handle any inquiries or requests from members regarding their accounts. The candidate will need to feel comfortable with cross-selling products and services as appropriate to improve the member's financial situation.
Solutions Specialist
This position is to preserve the Credit Union's assets by collecting on all delinquent loans, credit cards, mortgages, and negative share balances. To achieve this, the candidate will need experience in placing and receiving internal and external phone calls and emails, with an understanding of collection laws, evaluating a variety of delinquent accounts for loan modifications, workouts, repossessions, legal action, assignment to a collection agency, or charge off. The accounts that will typically need evaluation include VISA Credit Cards, lines of credit, secured loans, vehicle loans, signature loans, real estate loans, and negative share accounts, including returned checks and fraudulent items. The qualified candidate will need strong communication skills in an effort to uphold OUR Core Values, assisting each member with tact and empathy, while utilizing negotiation skills to reach an acceptable resolution for both the member and the credit union. The candidate will need to demonstrate emotional intelligence, charisma, the ability to problem solve, be articulate with good diction, and maintain an effective telephone voice when speaking with members. This position requires at least 6 months of prior collection experience, a high school education or GED, extensive customer service skills, including understanding and presenting verbal information, active listening, and the ability to react professionally during difficult interactions and situations. As this position requires extensive documentation in a clear concise manner, the candidate will also need strong verbal and written skills. Time management and personal management skills are also essential in understanding the importance of time sensitivity and the production of accounts for this position. An understanding of bankruptcy laws is a plus for this position to assist with forwarding new bankruptcy files to the attorneys for filing of reaffirmation agreements, objections, lifts of stay, proof of claims, etc.
If you are interested in joining the OUR Credit Union Team, please email us your resume for consideration.
Employee Benefits
Paid Holidays
Paid Birthday Off
Paid Time Off for Part-Time and Full-Time Employees
401k with Credit Union Match
Education Assistance
Employee Assistance Program
Employee Referral Program
100% Employer Paid Premium for HSA Medical Option*
Competitive, Low Premium Options for Medical, Dental, and Vision*
Credit Union Paid Short-Term/Long-Term Disability, and Life Insurance*
Flex Spending and Dependent Care Account Programs*
Credit Union Incentive Program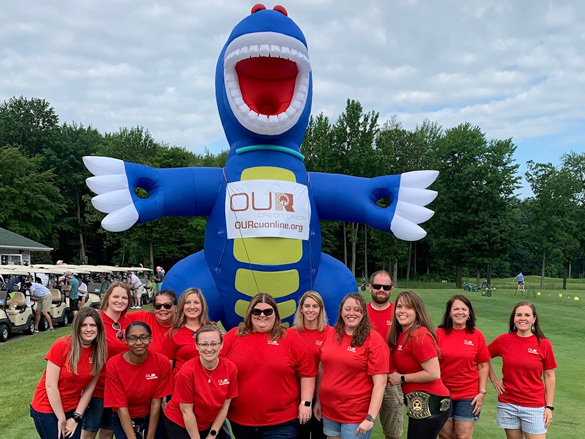 *Benefits available for Full Time Employees
Go to main navigation