Join our Team
OUR Credit Union has been providing financial services to our community since 1959. Our staff strives to exceed the standards of OUR Core Values with each member encounter.
OUR Core Values
1. We go "Above and Beyond" by making our members the priority.
2. We are "Better Together" through collaboration and mutual respect.
3. We "Own It" by taking pride in ownership, honoring our commitments, work with integrity and professionalism, and show initiative in all that we do.
We are a fun, dedicated, member-focused team and are passionate about what we do! If you are in search of a fun place to work and grow, we would love to consider you joining our team. Please submit your resume below.
Current Openings

Solutions Specialist, Full Time-Hourly
We are in search of a Solutions Specialist candidate to join our Lending Solutions team at the Twelve Mile Branch (5625 E. 12 Mile Road, Warren, MI 48092). This position will report to the branch Monday through Friday and will be required to rotate on Saturdays after the training period. The ideal candidate will be passionate about servicing our members (internal and external) while living out OUR Mission, "Helping our members meet their financial goals while striving to exceed expectations with each interaction.". In addition, this position will perform tasks and follow procedures that will help preserve the Credit Union's assets by collecting on all delinquent loans, credit cards, mortgages, and negative share balances.
At least 1 year of similar or related experience

Able to communicate to members with tact and professionalism in tone of voice and inflection, demonstrating empathy and compassion.

Excellent attention to detail and ability to take detailed notes.

Able to effectively handle confrontations with members over the phone and de-escalate issues.

Exemplify teamwork between all departments of the Credit Union by upholding OUR Core Values

Branch Manager, Full Time-Hourly, Normandy Branch
Three to five years or more years of similar or related experience in a management role. Underwriting experience, preferred.

Two-year college degree, or equivalent in relevant work experience and/or professional certifications/designations in lieu of a degree.

Due to the level at which this position will communicate with staff, members, and external contacts, a significant level of trust diplomacy will be required.

Effective communication skills, both verbal and written, are necessary.

Ability to lead and coach a highly effective team by focusing on employee development, teamwork, coaching, and empowering individuals.

Ability to direct and monitor branch operations to ensure credit union service and sales goals and objectives are being met.

Ability to effectively handle confrontation with members over the phone and de-escalate issues.

Exemplify teamwork between all departments of the Credit Union by upholding OUR Core Values.
If you are interested in joining the OUR Credit Union Team, please email us your resume for consideration.
Employee Benefits
Paid Holidays
Paid Birthday Off
Paid Time Off for Part-Time and Full-Time Employees
401k with Credit Union Match
Education Assistance
Employee Assistance Program
Employee Referral Program
100% Employer Paid Premium for HSA Medical Option*
Competitive, Low Premium Options for Medical, Dental, and Vision*
Credit Union Paid Short-Term/Long-Term Disability, and Life Insurance*
Flex Spending and Dependent Care Account Programs*
Credit Union Incentive Program
Free Secure Checking with ID protect, Credit Report Monitoring, Cell Phone Protection, Discounts, and so much more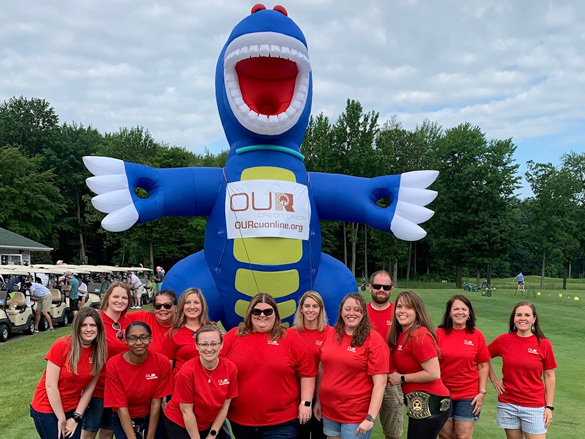 *Benefits available for Full Time Employees
Go to main navigation