What's New
60th Anniversary Grand Prize Drawing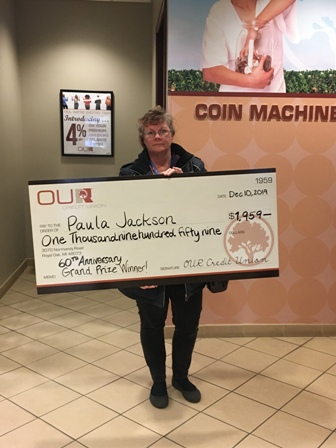 We'd like to congratulate Paula Jackson on being our grand prize winner of $1,959!
Throughout 2019 we celebrated our 60th anniversary with our members via social media contests, testimonials, the OURCU60 hashtag, photos, and more! We loved reading about all the wonderful ways we've impacted the lives of our members over the years, and we're looking forward to many more years of helping our community thrive. We are so excited to announce our grand prize winner, and to thank everyone who celebrated with us over the last year!
OUR Life
Stay up to date with all the latest news at OUR Credit Union! Read it here.
Winter Loan Special
Are you an existing member?

Not a member yet? It's easy to join and become a member at the same time: Apply Here.
Winter Loan Special Offer Ends January 31, 2020.
• OUR Debt Protection is voluntary and not required in order to obtain credit. We will not consider whether or not You elect protection in making a credit decision.
• We will give You additional information before You are required to pay for Our Payment Protection. This information will include a copy of the Contract containing the terms of Our Payment Protection. There are eligibility requirements, conditions and exclusions that could prevent You from receiving benefits under Our Payment Protection. You should carefully read the Contract for a full explanation of the terms of Our Payment Protection. You may terminate protection on Your account(s) at any time by providing Us with written notice at least five (5) business days prior to the requested termination date. If You do so within thirty (30) days of purchasing protection, We will credit You for any Program fees charged for the protected account(s).
1.Annual Percentage Rate. This Special Offer is not to be used to refinance existing OUR Credit Union loan balances unless adding at least $1,000 in new money to the existing balance. Rates are subject to change at any time without prior notice.
2 Estimated Amount. Based on optional payment protection.