Vehicle Loans
Limited Time Special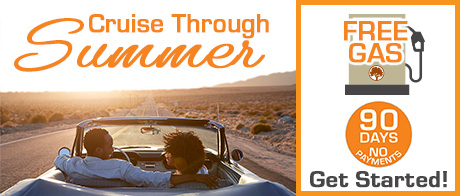 For a limited time you can earn up to $100 in free gas, and you could qualify for 90 days without payments!1

Enterprise Car Sales

Through our partnership with Enterprise Car Sales you can take advantage of no-haggle pricing, which makes it easy to compare national car sales online and find the best used car deals now!* View their inventory today!
Refinance and Save Today!
Refinancing is simple! And we guarantee your new rate will be at least 1% less than your current rate.2
News and Shopping Resources
Auto Center - Car Shopping from Start to Finish
Get a great rate and flexible terms for both new and used vehicles. Unlike "special" financing from many auto manufacturers, you aren't limited to certain models and there are no hidden charges or fees.

Take the Wheel - Auto Needs Infographic
Learn how we can help you with all your auto needs.
Auto Talk Newsletter
Recreational Vehicle Loans
4.49% APR3
If it has wheels, we'll finance it! Whether you enjoy motorcycling or boating, finance your fun with OUR Credit Union!
Motor Homes
Campers
Travel Trailers
Snowmobiles
Personal Water-Crafts, Boats
On and Off-Road Motorcycles/All Terrain Vehicles

Discounted Optional Coverage
Give yourself peace of mind! Coverage options are affordable and can be financed along with your new or refinanced auto loan.

*Used vehicles were previously part of the Enterprise rental fleet and/or an affiliated company's lease fleet or purchased by Enterprise from sources including auto auctions, customer trade-ins or from other sources, with a possible previous use including rental, lease, transportation network company or other use. The "e" logo and Enterprise are trademarks of Enterprise Holdings, Inc. All other trademarks are the property of their respective owners. © 2018 Enterprise Car Sales.
1.New loans of $10,000 or more qualify for $100 and loans of $5,000-$9,999 qualify for $50. New money only. Gas money will be deposited into your account at time of disbursal. No payment for first 90 days for qualified borrows. Offer expires 06/30/2019.
2. Upon approval of refinancing your loan from another institution, we guarantee your new rate will be at least 1% less than your current rate, minimum rate of 2.74% annual percentage rate. Savings example is an average calculated from a select sample of members and is not a guarantee of what each individual will save.
3. Annual Percentage Rate. Loan rates are 'as low as' and are based on credit history and term of loan. Not valid on existing OUR Credit Union loans. Rates are subject to change at any time without prior notice.