Apple Pay Is Here!
We have rolled out Apple Pay! Enjoy all the benefits of your OUR Credit Union Debit Card and your Platinum Visa Card using Apple Pay on your iPhone. It's the easy, secure and private way to pay with a simple touch.
FAQ's:
Q: What is Apple Pay?
A: A virtual wallet! Apple Pay converts your debit and credit cards to electronic form. Apple Pay enables you to pay at the point of sale with your iPhone!
Q: How do I get Apple Pay?
A: In order to use Apple Pay you must first have the application. If the application is not already loaded to your iPhone, please visit the App Store and search "Apple Pay" to download it to your phone.
Q: Can I convert all of my OUR Credit Union cards to Apple Pay?
A: Yes! Your MasterCard Debit Card and Visa Credit Card with OUR Credit Union can be converted to your Apple Pay Wallet.
Q: Can I add other cards to my Apple Pay Wallet?
A: Yes. You may add up to 8 different cards from any financial institution to Apple Pay if the cards are eligible.
Q: What devices are supported?
A: You can use Apple Pay with your iPhone 6, iPhone 6 Plus, iPadTM Air 2, iPad mini 3, and Apple WatchTM that is paired with your iPhone 5, 5c, 5s, 6 or 6 Plus.
Q: Is it easy to use and set up?
A: Yes! Be sure your supported iPhone has the latest version of iOS. To add a credit or debit card on your iPhone, open Wallet and tap the plus sign in the upper-right corner, or "Add Credit or Debit Card". You are able to pay securely with a single touch at hundreds of thousands of stores.
Q: Does OUR Credit Union charge to use Apple Pay?
A: No. OUR Credit Union does not charge to use this service.
Q: Is Apple Pay safe and secure?
A: Yes! Apple Pay can be safer than using a traditional credit or debit card. Your Card in Apple Pay is protected by a Touch ID or your device Passcode. For your security, when you make a purchase using Apple Pay, you must enter either of these. As added protection, your card number and identity aren't shared with the merchant, and your actual card numbers aren't stored on your device or on Apple servers. A unique digital code is created specifically for your device. OUR Credit Union strongly recommends you always secure your mobile device(s) with a password or PIN.
Q: How will I know the payment went through?
A: You'll hear a small sound or feel a vibration to indicate that the payment was successful, as well as a paid message on your device's display.
Q: Where can I use Apple Pay?
A: Look for one of these symbols at checkout: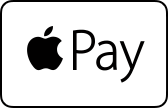 Please continue to carry your physical cards in order to use them where Apple Pay is not accepted. Because not all merchants currently participate, please view the list of merchants at the Apple Pay site.
Q: Will I have to sign a receipt?
A: As you do today with a plastic credit or debit card, you might need to sign a receipt, depending on the store and the transaction amount.
Q: Will Apple Pay show my transactions?
A: When you view your card in Apple Pay, you'll see the last transaction for each credit card or debit card. You can also see the last 10 transactions for your cards. Just tap the card and then tap the information button.
Q: What do I do if I need to return an item purchased with Apple Pay?
A: The return process varies by merchant. You may need to present a receipt from the merchant to return the item. To complete the return, hold your iPhone 6, iPhone 6 Plus or Apple Watch over the contactless payment terminal and wait for the slight vibration of the device to confirm the return has been processed. You must use the same Apple Pay enabled device you used to purchase the item to process the return.
Q: Can I continue to use my plastic credit or debit cards?
A: Yes. If you choose, your plastic debit or credit cards will work as normal.
Apple, the Apple logo, iPhone, and Apple Wallet are trademarks of Apple Inc., registered in the U.S. and other countries. Apple Pay, Touch ID and Apple Watch are trademarks of Apple Inc.