National Dog Rescue Day - Animal Welfare Society of Southeastern Michigan
Hello, my name is Danniella ("Danni") Wonnacott. I was asked if I would like to write a "blog" about animal rescue for a post on "National Dog Rescue Day". First, I looked up how to write a blog LOL, then I just started thinking about all ways myself, my family and friends have been involved with in the animal rescue world for the past 12-13 years. So, the following may not be in blog format but hopefully it will still be a good read!
September 2006, a friend at my job was talking about fostering puppies for a rescue organization. Owning 3 dogs myself at the time, and being involved with animals my entire life, it was always something I was passionate about. Very excited about the opportunity, I asked my friend to explain. Soon I was talking to people at The Animal Welfare Society of Southeastern Michigan in Madison Heights ("AWS"). They were operating out of a small back office in a strip mall at 12 and Dequindre. The organization was established in 1982 by a group of concerned veterinarians and individuals who were alarmed by the number of healthy dogs, puppies, cats and kittens being euthanized at city, county and state animal control shelters. They began to obtain these unwanted animals, rescuing them from death, and placing them into foster homes until they could find good permanent homes for them to be adopted to. AWS committed to being a unique "No Kill" organization, which meant the animals would stay with us until they found permanent homes. Weekly, they would take them all to various pet stores and set up adoption events. They accepted applications for review to approve adoption. Certain criteria for each dog had to be met, such as no unfixed dogs in the home, fenced yard, sometimes no kid or other animals. They had a good adoption rate but they could only take in the number of animals they could place in foster homes. The more foster homes the more animals they could rescue. I asked how we could help and he said how many pups do you want to take home? I was thinking we should start with one, but he said can you take three. I said yes and called my husband, Kelly, to plead with him about the plan. He was a bit apprehensive, but he agreed we could give it a try. Our daughters were excited to be bringing puppies home but we made sure they knew from the start we were not keeping them. Our first experience as a foster family was great! Yes, we didn't get enough sleep and cleaned up lots of messes, but it was so heartwarming when within a couple weeks all 3 pups had new forever homes. We were hooked! Over the next 4 years we took in and helped adopt out close to 200 puppies (and a few kittens). Our girls had a poster boards on the walls of their room with all the pup's names. We got to name the pup's so there were a couple odd ones, Waffle, Syrup and Moccasin (aka Rug), for example. Amazingly our dogs were great helpers with the new kids in the home. They played with them, snuggled with them and sometimes simply just tolerated them.
It's important to note that not only is AWS a "No Kill" facility, it also is 100% Non-Profit, with no money coming from any city, state, or government entity to keep the bills paid. Thanks to generous donations and successful adoptions, The Animal Welfare Society was able to open its own shelter on John R in Madison Heights May 1, 2007. The new facility is approximately 5000 square feet and allowed AWS to house 25-40 dogs or puppies and 30-40 cats or kittens. This meant we would be able to rescue more animals! My family began volunteering at the facility to take care of all the animals and keep the shelter clean. Our board and volunteers worked hard to get the facility ready to open, keeping all the animals happy and healthy and continue to keep it organized and clean. The facility was open daily for people to come check out animals to adopt. Saturday was always a big adoption day. I still say Sunday is the only day we close, which doesn't mean our staff or volunteers don't still come in to take care of everything. In September 2008 I became a board member, which I took very seriously. Every Monday night and Saturday, myself and other volunteers would take care of the shelter. To this day myself and my husband take care of Monday, Tuesday and Friday nights and Saturday adoptions. Open adoptions on Saturday's are always interesting. Not everyone that applies for an animal is approved. It takes a lot of patience and tact to deal with people who are denied. It's also sad sometimes when people tell us they recently lost their 14, 15, 16, year old dog, their previous dog got away from them and was killed or never found, they gave their dog away or it was stolen from there yard. We also took in pets people wanted to surrender for various reasons, understandable and not. It's frustrating when people want to surrender their dog or cat because they are having a baby, they don't have time or their moving and won't take them. Pets are a lifelong commitment! After the new facility opened AWS began obtaining animals from additional kill shelters. We always pulled from Oakland Country Animal Control and Detroit Animal Control. We started taking our own vehicles 1-3 hours north or south to meet with transports from animal control facilities to get dogs that would have been put to sleep the next day. Many kill shelters have inhumane methods to put the dogs down which fueled our desire to rescue that much more. In early 2009 AWS received a donation in memory of a loving supporter that allowed us to buy a new transport van. Opposed to 5-10 animals rescued, we could pick up 15-20! We were also able to start a pet food pantry to help people in need feed their animals. We were rocking the rescue and adoptions world.
Of course, with all good there comes bad. We had many animals that would come in sick, abused, shut down or out of control. We'd also take in pregnant dogs to have their babies in a warm safe place opposed to outside in the cold, dirty ditch or an abandoned home.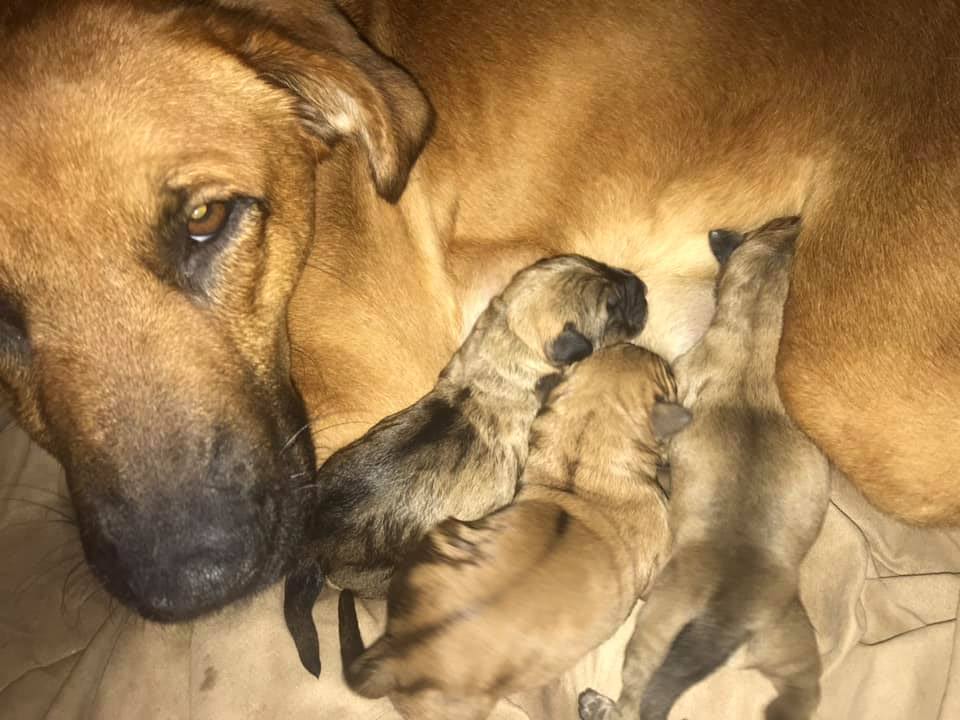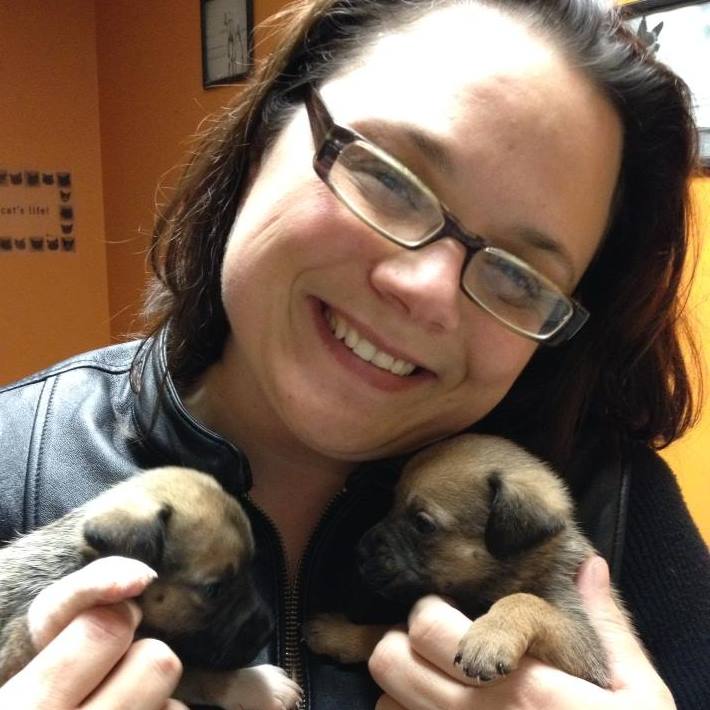 I've been fortunate enough to be with a pregnant mom when she gave birth. It's a natural event and my help wasn't usually needed, but a couple times the mom was sick, young or tired and I'd jump in to help the new baby breath and get latched on to nurse.
There were and still are a handful of individuals that went above and beyond to help the animals and shelter continue to be successful. On a few occasions my family and I took home pups that had contracted the parvo virus, which can be deadly. Without around the clock care, including syringe feeding and sub-q fluids, they may have died. Sadly, we did lose a couple, but we saved many more. We had a pup from a litter who we named Chance that kept having seizures. AWS took him to a specialist and got him on meds, my husband and I fostered him, medicated him until he was stable and no more seizures. He was adopted by a great volunteer who knew about his condition and she maintained his meds and vet care until he was weaned off the meds and remained seizure free. He will be celebrating his 7th birthday this year. AWS also treats many dogs that come in and test positive for the Heartworm disease. Heartworm can also be deadly, its transmitted mostly by mosquitos, and Michigan has plenty of them. It can be easily avoided with a monthly preventative too.
We took in an unwanted dog from the streets of Detroit that was scared and mentally not in her right mind. Her name was Scarlet and at first, she wanted to attack any animal that came close and wasn't fond of some people. Thankfully, she liked Kelly and I. We, along with others she let help her, worked with her for 2 years. She got off her leash one evening and attacked another shelter dog and Kelly had to pry Scarlet's mouth off the other dog's neck. Scary, but thankfully there were no injuries we couldn't treat. After 2 years Scarlet seemed to calm down, but we knew she had to be adopted to a very specific home. Finally, a great lady adopted Scarlett and she's is living the life she deserves.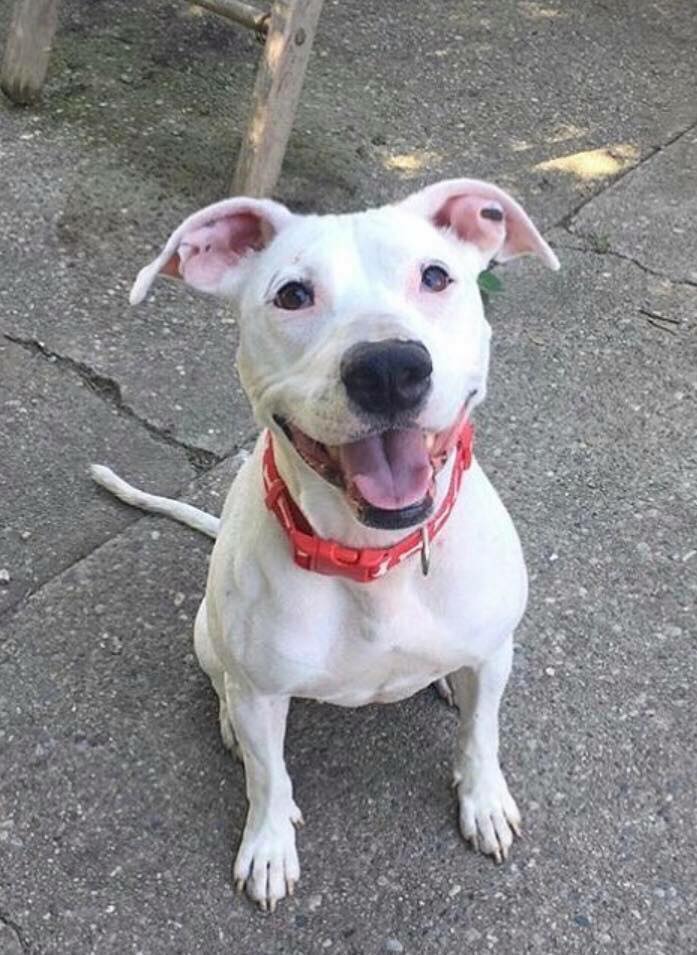 So many success stories, I could go on and on and on! In 37 years, The Animal Welfare Society of Southeastern Michigan has rescued and found forever homes for at least 25,000 dogs and cats. My family has lost two of our own dogs since we started and we did end up and keep one of our foster pups. No shame in being a "foster failure" as many called it. I prefer to think of it as "foster winning", and we've had many animals adopted by their foster family.
We thought Maverick was a Shepherd/Bernese mountain dog mix, and he went to one adoption event before we said we wanted to keep him. He'll be 11 years old this fall.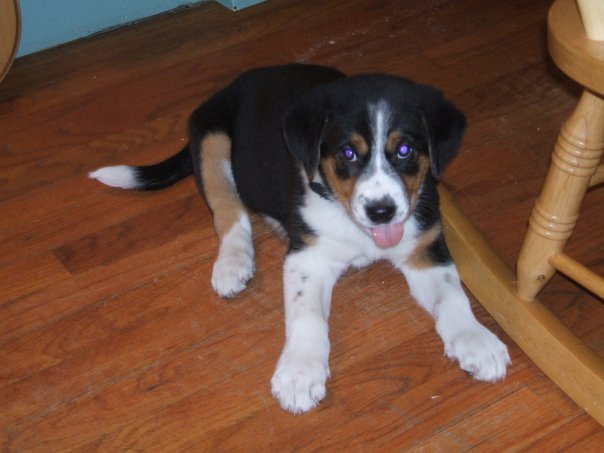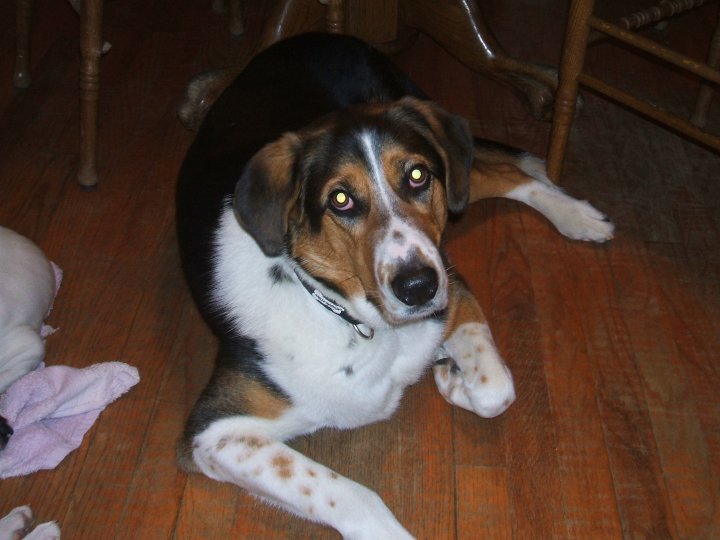 We also have Chad who will be 15 in June, he came from a small rescue before we even knew about AWS. We also have two cats that our girls begged us to adopt. The girls have moved out, one took her cat the other cat still lives with us.
Multiple AWS dogs were adopted by great OUR Credit Union employees and there have been many people who adopt and use their OUR CU debit card to pay their adoption fee. With OUR CU and AWS being in the same community, it's great when we can adopt animals locally.
Hopefully many of you are still here with me as I come to an end of my story, and if you would like to know how you can help AWS? We always need donations, monetary or supplies (supply wish list below). We always need volunteers. And, we always have puppies, dogs, cats and kittens in need of forever homes, so if you or someone you know is looking to adopt a rescue pet please send them our way. You can also buy an AWS t-shirt for $20 (XXL $25). We don't do foster homes as much anymore because we have the facility. However, medical cases, long term residence and sometimes if we are overwhelmed with puppies or kittens, we still appreciate having good foster homes. With the number of new rescue organizations that have been established over the past 10 years the amount of donation and adoptions to AWS has decreased. We hope to be around for another 37 years and we can use all the help we can get!
Thank you for taking the time to read my story and my passion to rescue dogs, and cats!
Learn more: The AWS website | Facebook | Instagram
On our website there are tabs for "Donations" or "Our Pet List", and if you scroll down on the home page there is a link for a volunteer application. There is also a link to Facebook, which honestly is where many of our available animals are posted first. Under the "Contact Us" tab on our website you'll find our hours of operation and our address, you're welcome to visit the shelter if you want to see the animals available in person or if you have any more questions. Kelly or I would be happy to see you on a Saturday. Thank you to OUR Credit Union for the opportunity to talk about our passion of rescue and the organization we support.
AWS Wish List:
• Monetary Donations

• Bleach • Cleaning Wipes

• Paper Towel

• Garbage Bags 45-50gal only

• Small/medium Blankets

• Towels

• Hand Sanitizer

• Gas Cards

• Cat Litter (non-clumping)

• Litter Pans

• Litter scoops

• Spray bottles

• Puppy & Dog Food (dry)

• Kitten and Cat Food (mostly dry)

• Dog & Cat Toys

• Latex/Nitrile Gloves

• Laundry Detergent

• 2 Pocket Folders

• Page Protectors

• Kuranda Dog Cots
« Return to "OUR CU Blogs"